About me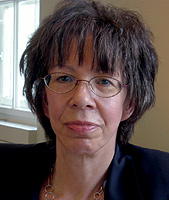 Elizabeth Marshall: I was born in the North of England but grew up in London. I studied Economics at the University of Leeds, but broke off my studies to travel in the Orient: overland to Turkey, Persia (Iran), Afghanistan, Pakistan, India. I then came to Germany and lived in communes in Heidelberg and Berlin. For over ten years I practised Zen meditation intensively as a student of Taisen Deshimaru Roshi, Paris. I am a trained nurse and worked for many years as a social therapist with alcoholics.
I trained in Shiatsu, Primal Integration Therapy and Organismic Psychotherapy and further Training in advanced Shiatsu techniques, Bioenergetics, Psychomotorics Therapy, Encounter, Cranio-Sacral Therapy. Also a 2 day workshop in the Sexual Crucible® Approach with the American family and sexual therapist Dr. David Schnarch.


I am a member and a registered therapist of the German Association for Body Psychotherapy (Deutsche Gesellschaft für Körperpsychotherapie, DGK) and the European Association for Body Psychotherapy (EABP).


Know thyself.
I come from the client side of therapy. For years I was highly neurotic, addicted, deeply unhappy, lonely and full of shame. And even then I didn't seek help. It took a huge personal crisis that manifested itself in all aspects of my life: my self-respect, my relationship, my profession, my home, my spiritual path, so that in the end everything was blocked and there was only just enough energy to survive. Only then was I prepared to admit that I needed help. I was lucky in that another person took me under their wing and managed to convince me that all this had to do with me, with my old emotional patterns, my subconscious fears and suppressed feelings. And that I could change all that. Through therapy, through working with feelings, with the body and with the mind. I was 40 years old. Now many years later I'm a therapist myself. I'm in the happy position to be able to pass on the gift of therapy that I received and that changed my life. And I'm full of respect and sympathy for those who dare to embark on that great and gallant adventure of discovering their true selves.